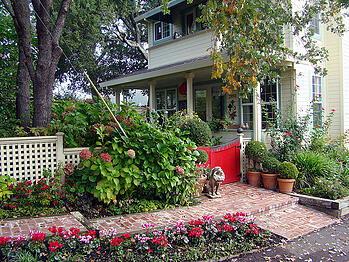 The secret of curb appeal isn't such a secret; statistics show that homes that look great from the outside command a selling price that's five to seven percent more than a similar home with an average -- or not so attractive -- exterior. Those percentage points translate into thousands more dollars in your wallet, underscoring the importance of curb appeal when you're doing exterior remodeling Northern Virginia to help sell your home.
Fortunately, spicing up your home's exterior doesn't have to break the bank. From a fresh coat of paint to a thorough sweeping, colorful plants to spruced-up siding Maryland and Virginia homes alike will greatly benefit from a few minimal monetary investments -- especially when mixed with some good, old-fashioned sweat equity. These budget-friendly tips show you how.
1. Clean Sweep
First and foremost, give your front yard and landscaping the once-over. Mow the grass, pull the weeds, trim back overgrown tree and shrub branches, and sweep the steps and pathways. This all-important step is essential -- and free.
2. Maintenance Guru
Now turn your attention to your home's exterior. Notice any signs of disrepair? They'll stick out like a sore thumb to potential buyers, so now's the time to take care of any deferred maintenance that you've been putting off. Look for small exterior remodeling Northern Virginia issues such as peeling window frames, crumbling mortar or discolored fencing and fix it - before you lose a sale.
3. Welcome Guests
Welcome visitors -- and potential buyers -- to your home by setting a large pot on either side of your front door. Plant small evergreen trees, shrubs or ornamental grasses in each for year-round color and texture. Landscape architects note that plants placed in pots look larger then those planted in the soil, creating a dramatic look that catches the eye.
4. Lush Plantings
Create that desirable, lush garden look by planting a few small, 5-gallon trees, a few evergreen foundation plants, and perennial flowers. For the biggest impact, use just two types of perennials -- choose long-blooming varieties in cool colors like white, purple, blue or light pink -- but plant at least 12 of each. Choose species that are acclimated to your landscape's sun, water and soil conditions for the best results.
5. Go Green with Mulch
Cover your freshly planted beds with a layer of mulch; not only will it cut down on water use, it'll give your yard a finished look. Choose dark, organic mulch for the most aesthetically pleasing look, but avoid mulch in red-brown shades as it clashes unpleasantly with the green from grass and foliage.
6. Neat and Trim
Freshly painted trim does wonders for your home's exterior. Choose a color that pops against your home's siding, whether that's a bright white or a deep brown. Don't forget window sills, casements, posts, fencing, decking and shutters.
7. Front Door Makeover
Every potential buyer will walk through your front door, so make yours stand out. Virginia and Maryland custom exterior doors are designed for our region's climate and welcome guests with a fresh, new look. Plus, Maryland custom exterior doors create a unique look that shows your attention to detail.
8. Standout Numbers
Replace your home's street numbers with a dramatically large version that create a big impact. You can stencil them yourself or purchase large vinyl or metal numbers to match your aesthetic. Big numbers lend a whimsical look that draws potential buyer's eyes and makes your home hard to forget.
9. Light it Up
If your home has outdated or cheap, builder-installed outdoor light fixtures, install modern lights. For an even cheaper fix, spray paint metal fixtures with black paint.
10. Wonderful Windows
Got cloudy or inefficient windows? Then go green and create a sparkling exterior with replacement windows Northern Virginia. Energy-efficient windows not only look great, they'll help save on your energy bills and appeal to potential buyers. Home improvement contractors Northern Virginia and Maryland can help you select the best options to meet your budget.
Image Credit: godutchbaby