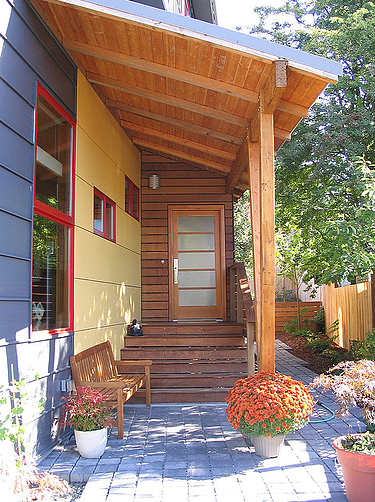 If you're considering siding replacement at your home, then you've got a lot of decisions to make. For starters, you'll need to decide which specific material to choose from your new siding. Some common options include:
Aside from that, however, you'll also need to decide between horizontal and vertical Northern Virginia siding installation. By understanding the advantages and disadvantages of each option, you'll ultimately be able to make the decision that's best for your needs and budget.
Vertical Siding Installation: Pros and Cons
Any type of siding material can be installed vertically, even though it's less commonly seen in residential structures. Often times, it's more common to see siding installed vertically in commercial buildings. However, for homeowners looking to achieve a more unique appearance with their exterior remodeling project, vertical siding installation can be a great way to make this happen. Furthermore, vertical siding is a lot easier to clean than horizontal siding, which can save homeowners a lot of time, money, and hassle year after year.
Even though vertical siding can help homeowners achieve a unique exterior appearance, it's important to consider the potential drawbacks. For example, vertical siding installation is a bit more complex than horizontal siding installation. As a result, homeowners can expect to spend more money if they opt for vertical orientation.
Why is it more complex to install? Mostly because, with vertical siding, it's necessary to install furring strips in between each of the siding pieces as a means of protecting against water leakage and future damage. The furring is also necessary to create a level and smooth surface. Specifically, these strips are installed before the siding and are placed horizontally; this can greatly lengthen the duration of the project, which impacts the price as a result. Furthermore, the furring adds to the overall material costs.
Homeowners considering vertical siding installation should also speak with a Realtor before making a decision to determine what impact it would have on the home value. After all, while vertical siding may be appealing to you, a future buyer may not like to unconventional appearance.
Horizontal Siding Installation: Pros and Cons
Most often, when homeowners decide to have Northern Virginia siding installation done at their homes, they opt for horizontal siding for a number of reasons. For starters, it's the least expensive option, making it ideal for homeowners needing siding replacement on a budget. Furthermore, most homeowners prefer the appearance of horizontal siding as opposed to vertical siding. It's also much easier to install, so the project can be done in about half the time required for a similar vertical siding installation project.
Of course, there are some possible drawbacks that can come along with having siding installed horizontally. For starters, horizontal siding can be less durable than vertical siding. That's because it's more prone to water damage over time. When rain falls, it falls vertically, making it possible for water to seep in between gaps in horizontal siding. Furthermore, if siding becomes even slightly dislodged, water can easily enter these gaps and lead to mold and mildew damage. This may even spread to the foundation of the home if left untreated.
Furthermore, horizontal siding is a lot more difficult to clean than vertical siding, since a special technique needs to be used so as to avoid water leaking in between the horizontal slats. Generally, cleaning a home with horizontal siding requires a lot of time and special equipment. On the other hand, cleaning a home with vertical siding can be as simple as using detergent and a garden hose on its "power wash" setting.
When it comes to siding replacement, there are many considerations to keep in mind. Deciding whether to go with horizontal or vertical Northern Virginia siding installation is an important first step for any homeowner to make. By keeping these pros and cons in mind, you'll be able to decide which choice is best for you in no time.